Google has stepped into the passwordless technology sphere by enabling the users to access passkeys for their accounts instead of passwords. Passkeys are a login medium which is connected with the website and the user account.  
Aligned to the FIDO Alliance, Apple, Googe, Microsoft and other tech enterprises have shown their agreement for the use of passkeys on all major platforms. Personal accounts on Google can all access the passkeys starting May 03. 
The Google users will have to create a passkey and that's it, you can say goodbye to the old days of keeping a track of your passwords and changing them often to secure your account. Once you have opted for the passkeys method of login, Google will not ask for password or any two-step verification for the account. 
Also read: Snapdragon 8 Gen 3 appears on AnTuTu, claims to be 30-percent faster
What are passkeys and are they secure?
Passkeys are an easy alternative and more secure option for passwords as they offer the liberty to the user for choosing their unlocking pattern. The user can  either choose from their fingerprint, face recognition or a PIN instead of just passwords. Where the user needs to formulate a strong password and then keep a tab for them. 
Especially, when you are logging-in into a new device it is normal for the users to forget their password, here the passkeys can be a great change and add ease to the user experience. This method of user verification is available on all devices that have registered passkeys.  
Passkeys address all the issues that a Google user faces when creating a password or unintentionally disclosing it to the network which in turn results in breach of confidentiality and even financial loss. 
Where two-step verification enables security from this it is not a full proof security method and can be overstepped. However, the authenticity of passkeys makes it a better alternative for user security. 
One of the blog posts by Google suggested, "Unlike passwords, passkeys can only exist on your devices. They cannot be written down or accidentally given to a bad actor. When you use a passkey to sign in to your Google Account, it proves to Google that you have access to your device and are able to unlock it," 
Also read: Google Pixel tablet's user interface photos leaked: Will you buy it?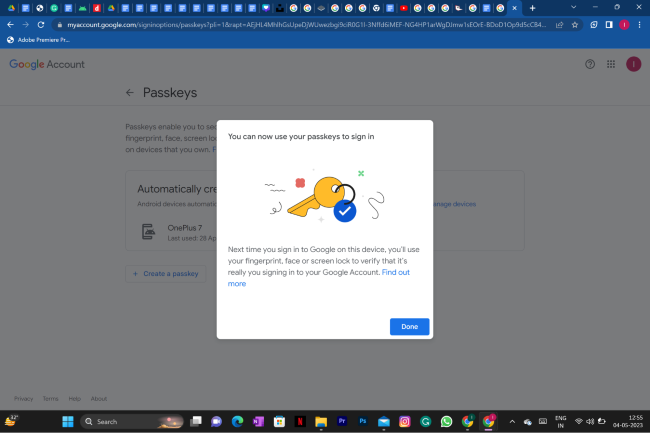 How to enable passkeys?
You can start using passkeys for your Google accounts in less than three steps. The process can be reversed by just opting for the option of passwords instead of passkeys. Google has made the change as convenient as possible. 
Visit g.co/passkeys.
Select "Use Passkeys"
If the device has registered passkeys, you are done. If not, you will have to create a passkey by adding your fingerprint, face recognition or a PIN.
And that's it, your Google account is safe and secure.
For more
technology news,
product reviews, sci-tech features and updates, keep reading
Digit.in or head to our
Google News page.