The BLAST.tv Paris Major 2023 is turning out to be the perfect spectacle that would essentially mark the end of one of the best eras of Counter-Strike. There are some issues like under-representation of other regions like Asia, the Americas, and the rest, with Europe being a dominant force. However, I will be taking a deep dive into that after the Major ends. For now, I am sure everyone is loving how the action is unfolding during the Legends stage of the Paris Major 2023.
CS:GO Paris Major 2023: Legends stage – Day 2 – Heroic and Vitality remain undefeated
Day 2 of the Legends stage started with Na'Vi taking on Ninjas in Pyjamas on Overpass. Having lost a game on Day 1 of the Legends stage, Na'Vi bounced back, handing the Ninjas their second defeat. The second match had GamerLegion defeat fnatic 11-16 on the familiar battlegrounds of Overpass.
Same vibes.#BLASTTVMajor @b1tcs pic.twitter.com/Onp4HHriWC


— BLAST.tv (@BLASTtv) May 14, 2023
The action then moved on to Vertigo, where Into the Breach showed why they were placed in the Legends bracket from the get-go, as they defeated one of the top-ranked teams from the Challengers stage, ENCE, 7-16. Apeks showed a glimpse of their brilliance as they stole a win from Bad News Eagles on Ancient.
Next, we moved on to the best of three matches, where the first teams facing off against each other were Monte and Vitality. The apEX-led roster (Vitality) trampled over Monte, as they registered an easy 2-0 win. When it was time for Liquid to take on Heroic, things got a little more interesting.
In the first map of the series, Inferno, Heroic won 16-11. On Mirage, Liquid fought back, giving Heroic a taste of their own medicine as they won 16-11. The decider map was Ancient, where we saw Heroic inch past Liquid, 16-12, making the series their own.
The next match of the day, between FaZe and 9INE, landed in FaZe's bag, as they won 2-0. The story repeated in the last game, where G2 handed Furia a 0-2 loss.
With three straight wins, Heroic and Vitality look to be the teams to beat as we move into another day of some exciting Counter-Strike: Global Offensive action, which will be Day 3 of the Legends stage of the BLAST.tv Paris Major 2023.
Here's what the points table looked like at the end of Day 3 of the Legends stage of the Paris Major 2023 –
On Day 4, all the matches will be best of three series, so it will be interesting to see how things pan out –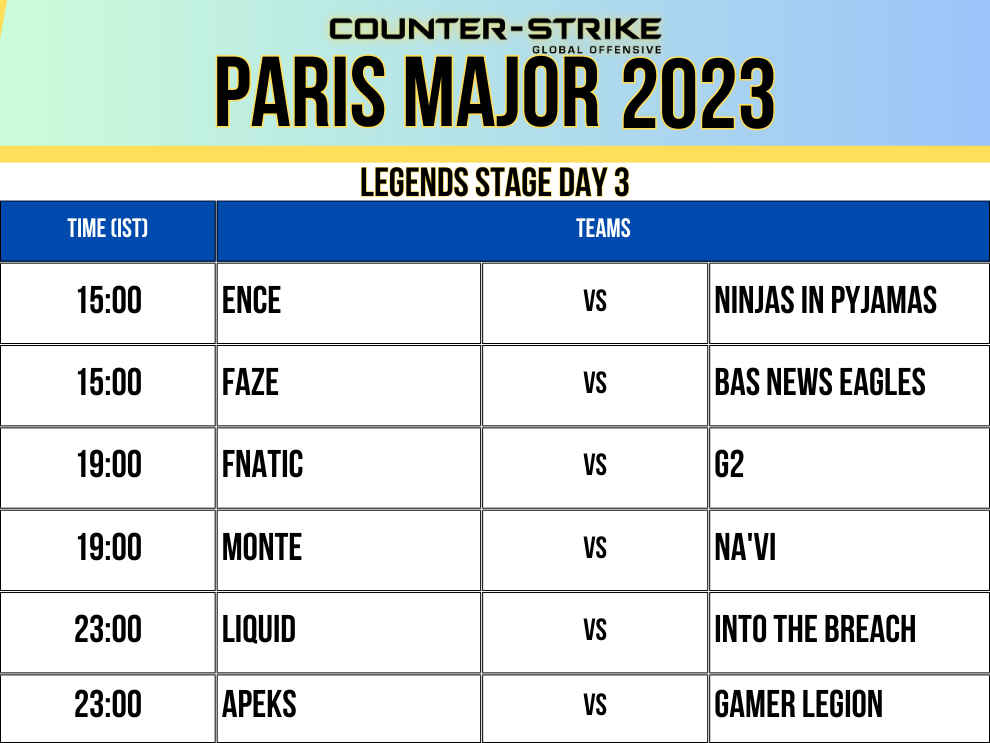 To get all of our coverage of the BLAST.tv Paris Major 2023, check out this page.
Tags:
COUNTER STRIKE major
CSGO major
CSGO PARIS MAJOR
PARIS MAJOR 2023
PARIS MAJOR CSGO
csgo major