Day 1 of the BLAST.tv Paris Major 2023 packed all the action that the fans could demand from the last Major tournament of the game. There were surprises, upsets, and everything that makes CS:GO the fan-favourite eSport that it is. As we had prefaced in our article yesterday, the first day of the Challengers stage held a lot of importance for the teams as they looked to get off the blocks with their guns blazing. And, while some teams were up to speed right away, the others had to toil hard to get things started. 
Paris Major 2023 Challengers stage – Day 1 – Perfect balance of emotions and competition
The first match of the day had FaZe Clan facing off against Monte. At the start of the game, FaZe looked like a shadow of their former selves that had been crowned the Major Champions exactly a year ago. But, as the game went on, they recovered and showed the world that they are here to stay. After staging a comeback against Monte, they were pitted against paiN Gaming, and sealed a 16-12 win. Monte, on the other hand, after having a rough start to their campaign, faced off against Fluxo. There the team that at one point gave FaZe a run for their money, proved their mettle by defeating Fluxo with a convincing 8-16 scoreline in their favour.
Before getting their dreams handed to them on a copper platter by FaZe, paiN gaming, in their first game of the day, had faced off against Fluxo, defeating them 16-2. The other games of the day had G2 defeating TheMongolz 16-11. Complexity twisting GamerLegion's arms into a 16-11 win, and Grayhound, out of nowhere, defeating Forze by a two-point margin, 14-16 in their favour.
Apeks asked the hopes and dreams of North American CS to sit down as they romped past a rather meak-looking Team Liquid to seal their first win of the Challengers stage. After having a rather eventful run the RMR stages, Ninjas in Pyjamas, trumped over Mouz, winning the game 16-9. The match between OG and ENCE was something that set the tone for the end of the day. OG were thrashed by ENCE, who raced home with a 6-16 win. G2, also added to their tally of wins, by evening out Complexity's win-to-loss ratio as their game ended 9-16 in G2's favour.
Doubling down on their win against Team Liquid, Apeks gave us the first flawless map of the tournament, when they defeated Grayhound gaming 16-0. Greyhound's win, followed by a loss was met with mixed reactions on Twitter as it had a massive impact on the Pick 'ems of players across the globe, potentially costing them a chance at the Diamond coin. ENCE continued on their run of form, racing home with a 16-9 win against NiP.
What a day to start the BLAST. tv Major off with, and tomorrow looks even more exciting as we'll find our first eliminations and new Legends #BLASTTVMajor pic.twitter.com/eK5FWrnnmW


— BLAST.tv (@BLASTtv) May 8, 2023
At the time of writing, four more matches had been played on effectively the second day of the Challengers stage. We had OG beat MOUZ (11-16), FORZE winning against Team Liquid who have one step already in de_airport, TheMongolz bouncing back to winning ways against GamerLegion, and Monte, registering a 16-8 win against Fluxo.
As it stands, here's how things look in terms of team standings in the BLAST.tv Paris Major 2023 –
With two more days to go in the Challengers stage, an surprise wins and upsets being the motto of tournament so far, the lines are rather blurred. However, as it stands, if Apeks, Faze, G3, and ENCE are able to continue their run of form into the coming games, it looks like they are all set to make it past into the Legends stage.
Here's a look at the schedule for Day 2 of the BLAST.tv Paris Major 2023 Challengers stage –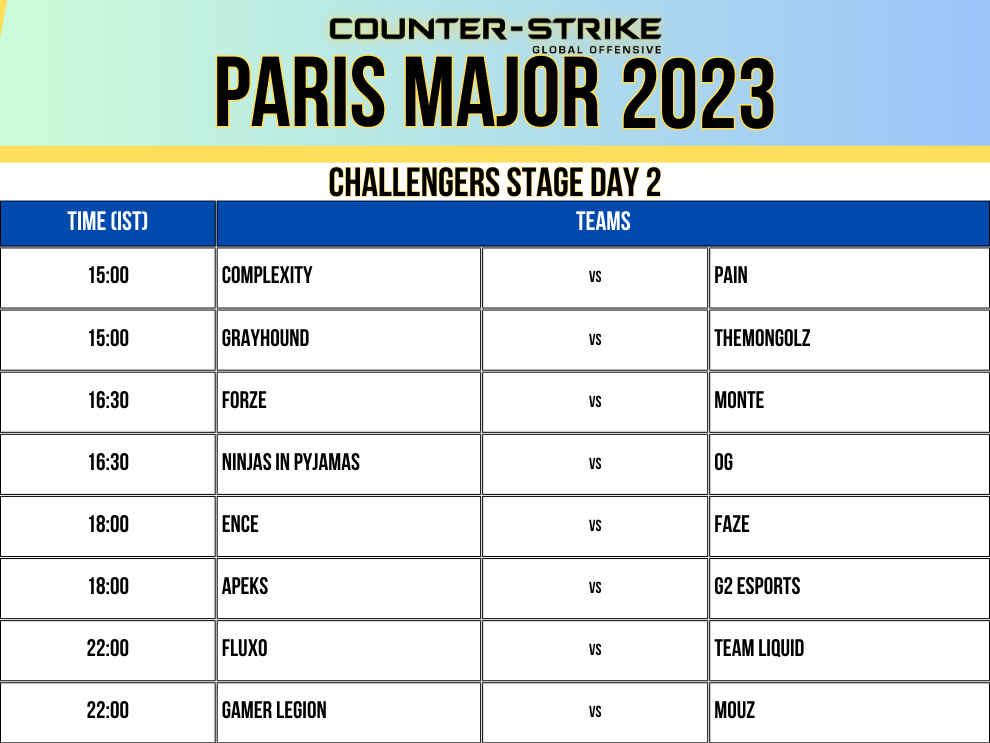 To get all of our coverage of the BLAST.tv Paris Major 2023, check out this page.
Tags:
COUNTER STRIKE major
CSGO major
CSGO PARIS MAJOR
PARIS MAJOR 2023
PARIS MAJOR CSGO
csgo major