After a mind-boggling start of the Champions stage of the BLAST.tv Paris Major 2023, everyone expected closely contested games to take place on the second day of the major. However, as it would turn out, Day 2 of the playoffs of the Paris Major 2023 was all about domination. Both the quarter-final games ended with Apeks and GamerLegion registering convincing wins over their opponents, going up 2-0 in their best-of-three series.
CS:GO Paris Major 2023: Champions Stage – Day 2 – Underdogs shine as we get our last two semi-finalists of the tournament, Apeks and GamerLegion
The first teams to hit the stage in Paris were Monte and GamerLegion. Both the teams had fought hard in the Challengers and Legends stage to make their way into the playoffs. Monte held on to the hopes and dreams of the CIS region after NAVI crashed out before the playoffs. And, GamerLegion had their own fans legions of fans cheering them on.
CS fans pic.twitter.com/mlq5JndWee


— BLAST.tv (@BLASTtv) May 19, 2023
In the first map of their best-of-three series, Mirage, Monte's pick, the Ukrainian squad held on to a one-point lead in the first half of the game. But when the second half rolled around, GamerLegion showed why everyone had tons of faith in their abilities. They won the map 16-10, and the action moved to Overpass. It was GamerLegion's pick, and it showed. 
GamerLegion closed out the first half of the map 12-3. And, when the second half rolled around, they wasted no time and grabbed a 4-0 unassailable lead over GamerLegion, winning the series 2-0, moving on to the semi-finals.
In the second match of the day, we had the heroes of the lower brackets of the BLAST.tv Paris Major 2023, Apeks, pitted against Liquid, who had the baggage of North American CS fans' hopes and dreams with them. Both the maps of the series, Ancient, followed by Overpass, unfolded in a similar fashion. The first half was dominated by Apeks 4-11, with the team closing out the maps in the second half as quickly as possible. 
Apeks have been on a roll in this tournament and would be my pick for being the surprise winners of the tournament. They have all the ingredients to make a recipe for success, and I am sure they can cook something special in this tournament.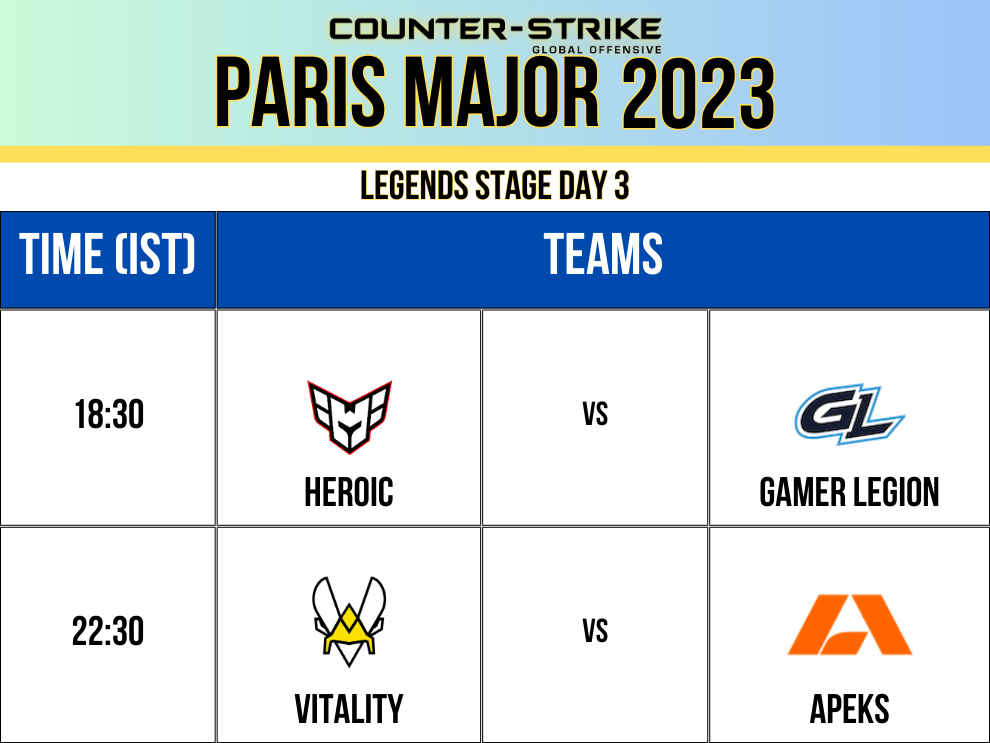 For the semi-finals, we have Heroic taking on GamerLegion for the first game of the day, and for the second match, we have Apeks taking on hometown favourites Vitality. If anything, it is going to be an exciting game of Counter-Strike: Global Offensive. It is the last time we are taking it to the big stage, so make sure that you make the most of it. Next stop – Counter-Strike 2.
Tags:
COUNTER STRIKE major
CSGO major
CSGO PARIS MAJOR
PARIS MAJOR 2023
PARIS MAJOR CSGO
csgo major playoffs
csgo major champions stage