Apple has always been ahead of all phones when it comes to the colour variants of its iPhone. Apple now has decided to make its Pro iPhones stand apart from its standard iPhones. 
But a Weibo user under the name Setsuna Digital claims that the iPhone 15 and 15 Plus will have a back panel with a frosted glass, giving it a matte look which only the iPhone 14 Pro features. So, as per Apple's plan this rumour can turn out to be true as they have a new look for the iPhone 15 models in mind. 
That's not all, the same Weibo user has also claimed in another post that Apple would bring a Cyan colour to its iPhone 15 range. Earlier there were rumours of the iPhone 15 series coming in colour variants like light blue and pink for the standard model and a dark red for the pro model. 
There is a reason why this Weibo user's tip should be taken into consideration. The same user has predicted the yellow colour variants for iPhone 14 earlier this year and it actually was launched. 
While talking about the yet to be launched iPhone, there are a  range of Apple products that are about to get launched at the WWDC, surely check them out.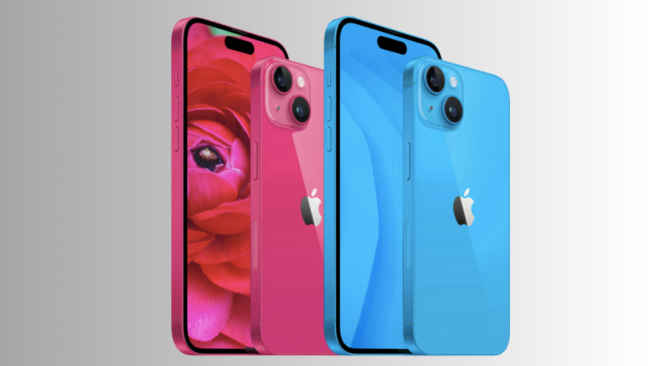 iPhone 15 will have some new range of colour variants than any other iPhone ever had
Apple generally comes up with five colour variants for the standard model and four for Pro. Midnight (Black) and Starlight (White) are obvious two variants including the Red one for Pro. So, for other variants we can take the light blue, pink and cyan into consideration. 
Except for the colour part, rumours also say that iPhone 15 standard models won't have many updates, but the iPhone 15 Pro has chances of certain updates. The update includes USB-C as the charging  standard and also we hope it adopts the A16 Bionic chip. Also, iPhones now come with the feature called Medical ID, which would definitely be of help in times of crisis or any sort of medical emergency. The ID should be a must for all iPhone users
The launch of the iPhone 15 range is expected to be around September, so you still have to wait for around five months to know if the rumours about the colours are true or not. Until then we just have to stay with these predictions. 
For more
technology news,
product reviews, sci-tech features and updates, keep reading
Digit.in or head to our
Google News page.